GTHM COUPLE'S CONFERENCE
"It is not good for the man to be alone. I will make a helper suitable for him." Genesis 2:18
American Children Raised Without Their Father
Divorce Filings Containing The Word FACEBOOK
Marriages That Separate or Divorce In First 5 Years
Chance Of Divorce If Regularly Praying Together
GTHM's 2-Day Couple's and Marriage Conference cost is $75 per couple. To register for the next conference please submit your Couple's Conference Registration Form now.

The GTHM Journey To The Relational Promised Land conference is a great way for couples to learn how to address core relational issues in a safe, fun, and relevant way. This conference is perfect for couples looking for simple relational enrichment while also offering hope to couples who have found themselves in the unfortunate predicament of no longer being able to live with each other nor without each other. That is not a good place to be! Pastor Rod and Nicole learned how to move past their trust issues and so can you.
Are you familiar with the Biblical account of the Israelites journey from Egypt to the Promised Land? (If not, think about Charleston Heston in the Ten Commandments.) Pastor Rod and Nicole take couples on a very entertaining journey to find their unique relational Promised Land!
They explain how sometimes couples inadvertently end up in unhealthy cycles of conflict (Egypt) and then they teach couples how to break out of any unhealthy cycle (The Exodus). Pastor Rod and Nicole walk couples through the awkwardness of learning new communication styles (Wandering in the Wilderness) and eventually help couples solidify or rekindle relational/marital joy (Entering the Promised Land). Lastly, Pastor Rod and Nicole use examples from their own marriage to illustrate ways to enhance romance and protect relational peace (Driving out the Canaanites.)
This curriculum is based on the book DNA of Relationships by Gary Smalley. This is the same curriculum that saved Pastor Rod and Nicole's marriage over a decade ago so they are energetic and passionate about these principles.
Couples can expect to get to the very core issues of their relational conflict while also having a few days filled with fun, laughter, and love.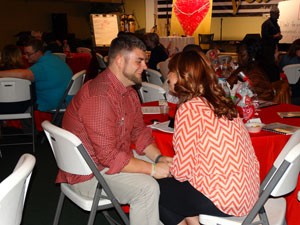 This 2 day conference is designed for dating, engaged, and married couples. Cost is $75 per couple and includes desert and light breakfast items. (Limited scholarships are available. Please contact us for more details.)
(Register for this conference using our Couple's Conference Registration Form.)